Adventures Near Your Home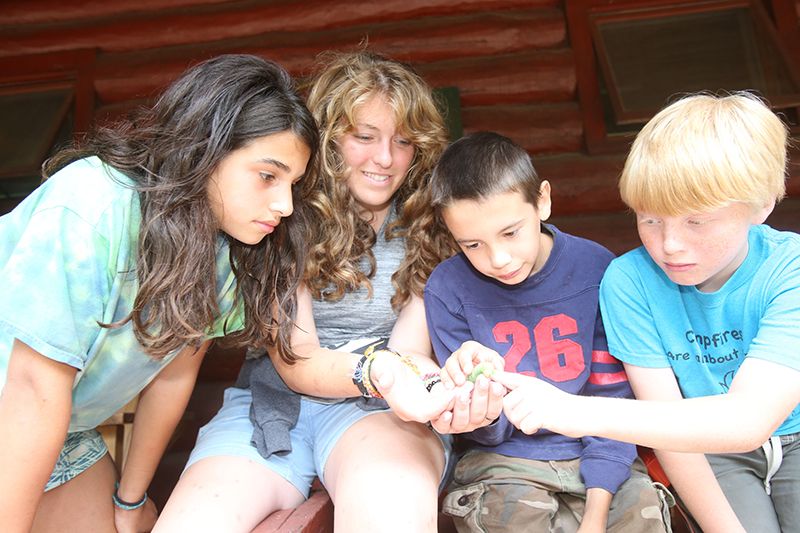 Day camp is a perfect introduction to the camp experience for the younger child, but it can also be a good choice for an older camper who isn't ready for, or is uninterested in sleepaway camp. In a good program, children learn within the context of play. An older day camper participates in many of the same activities as campers in an overnight program, but with the comfort of returning home at night. Finding the right day camp program for your child takes time and effort, but is worth it when your child returns home each night with smiles and exciting tales of the day.
The Young Camper-under 6
Choosing the right summer camp for a child under the age of 5 is similar to choosing a preschool program. A day camp for preschoolers should focus on play and emotional security. Camp activities should help a young child develop social skills and build self-esteem. Counselors at a day camp for the young child must be extremely compassionate while understanding separation anxiety. Staff's skills in dealing with separation anxiety is a good indication of their overall skill with young children. Many programs hire preschool teachers as supervisors or head counselors for this age group. If you child has already attended preschool, he or she may adapt more readily to the day camp experience.
Scaled to Size
Competition should be minimal in a day camp program for young children. In games, fun is emphasized above winning. Counselors are comforting and nurturing, and books, toys, games, and equipment should be age and size appropriate. A day camp that accepts a wide age range of children will, ideally, separate the younger and the older children, since younger children can be intimidated in the presence of older children. A good day camp program should include:
An opportunity for free play, where a child can choose which activity he or she wants.
Art projects tailored to meet small motor development with the emphasis on self-expression.
Playground time
If swimming lessons are offered, they are taught by instructors (red cross) with experience working with preschoolers.
Full Day or a Half Day
When choosing the daily length of the program, consider your schedule along with the energy level of your child. Include the length of the bus ride in your considerations. A full-day program generally begins at 9 a.m. and ends at 3 p.m., but bus time can add up to two hours to the length of the day. A half day program generally ends at noon or 1 p.m. You may want to start with a half-day program, and increase the length as your child gets older. Even if you have a child who is constantly on the go, don't underestimate how demanding a full day of day camp can be, both physically, and psychologically. A young child at camp must separate from their parents, share adult attention and materials, focus on new things, and interact with others. Because of this, many preschoolers who have given up daily naps long ago come home from day camp and need a nap or a quiet resting time in the afternoon. If you select a full-day program, ask about rest periods or nap-time built into the program. Many camps have a quiet time after lunch for children to rest, nap, or play quietly.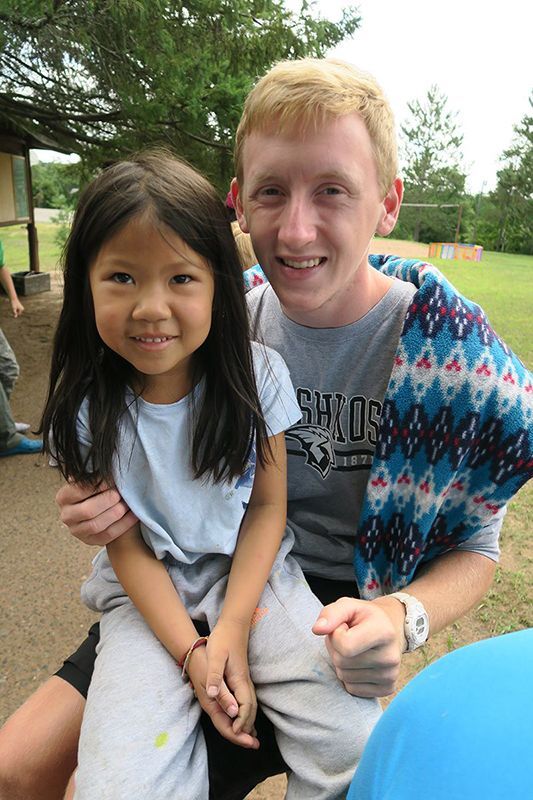 The Older Camper-over 6
There is generally less worry about separation issues with older children, but keep in mind that your older child will probably be nervous about starting a new program with other children. By age six or seven, most children are used to being in school all day and away from home. Though they may not be ready for a sleepaway camp, a full day program is reasonable.ho Will Cry?
Choosing the Right Day Camp
Often, when choosing a day camp you must visit, observe, and evaluate both what you see and what you don't see. Further, some of your evaluation will be on your best instincts about the people you meet and where you feel your child will fit in. Some good ways to find camps in your area include:
Starting Your Search
Ideally, you should start your search a full year before you plan to enroll your child. This way, you can visit and observe day camps while they are in session. The search process helps you focus on what you think is important in a day camp program. With more time to search, you give yourself the largest number of choices.
Scheduling Your Visit
Whether to take your child along when you visit camps is a matter of judgment. If you have a preschooler, it's probably better to visit alone, but if your child is over the age of five, then take him or her along if possible. Pay attention to how the camp director involves your child in the visit. A good director should pay attention to your child's opinions and questions, and should respect and enjoy kids.
Call ahead for an appointment to visit. The staff may not have time to show you the camp if you show up unexpectedly. When you call, you can get some of your basic questions answered. Some good things to ask include:
How long has the camp been in business?: This gives you an idea of the stability and strength of the program.
Who sponsors the camp?: Is it privately owned, sponsored by a non-profit, religiously affiliated, or run by the town or county?
How many children attend the camp?: You also may want to know how many children in each age group, how groups are organized, and whether the number of girls and boys is equal. Are the groups coed or single gender?
What is the ratio of counselors to children?: For preschoolers, you'll want to see small groups, about one counselor for every six children. For older children, the American Camp Association recommends a counselor to camper ratio of 1 to 8 for six to eight year olds, 1 to 10 for nine to fourteen year olds, and 1 to 12 for fifteen to eighteen year olds. Of course a higher ratio generally means more one on one with the staff.
Is the camp accredited?: The American Camp Association is an independent organization that accredits summer camps based on standards for health, safety, and program quality. Accreditation is voluntary, and only about 25 percent of day camps choose to go through the process. Even if a camp is accredited, you must make sure that it's the right program for your child, or you may find that a non-accredited camp meets all health and safety requirements, and is also a good fit for your camper.
Does the camp provide marketing materials?: Ask that the camp mail any brochures, pamphlets, or videos that they can mail for you to review before the visit.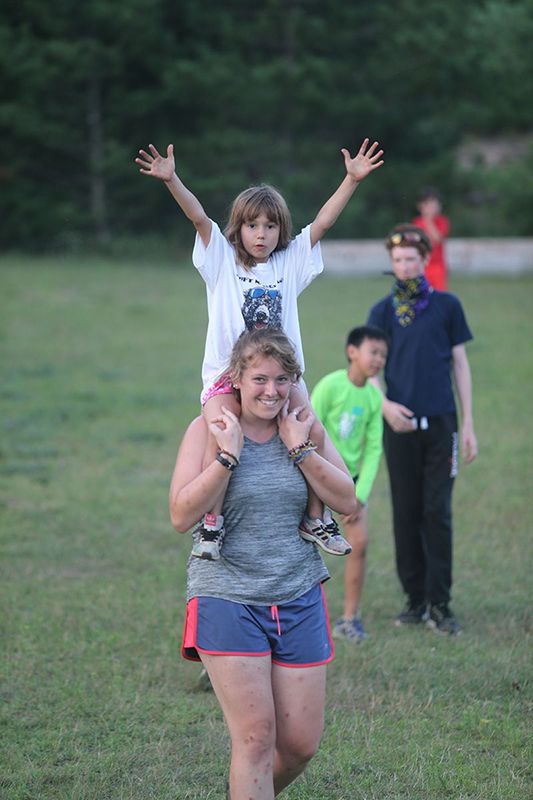 Narrowing the Field

Once you've made a list of potential camps, you must determine which ones meet your criteria. You should consider the following issues when evaluating a camp.
Location
The location of the camp may or may not be important to you. Some parents may want a program close to home, while others may prefer a program a little bit farther away to provide environmental contrast for their child. You may prefer a camp that is:
Near Home: A camp near home can mean less rushing in the morning, and make it more likely that your child will see familiar faces at camp.
Near Work: If the camp is near work, you can be closer to your child in case of an emergency, and after camp childcare may be located close by.
Near Child Care: A camp that is located close to your baby-sitter may be most convenient for you.
At a Distance: You may find that a certain program is so excellent that some travel is worth it, or you may want your child to attend camp in a different environment where they will met children from a variety of places.
Staff
Staff members are the essence of a good program. If at all possible try to see camp while campers and staff are in action. This way your not just hearing a story but you get to see it as well. You want to inquire about:
The credentials of the director, counselors, specialists, and staff: Staff should be experienced and clearly enjoy being around children. Senior staff should have experience running a camp and working with children. Specialists should not only be proficient in their area, but also experienced in teaching children.
Who on staff is certified in CPR and First Aid?: At least several of the staff members should have this training.
How does the camp screen it's staff?: Ask about reference and criminal background checks.
How many of the staff are returning from the previous year? How many are former campers?: Staff retention is a sign of a good program.
How long has the director been in the position?: The director sets the tone for the program and should believe in and be able to articulate the camp's philosophy.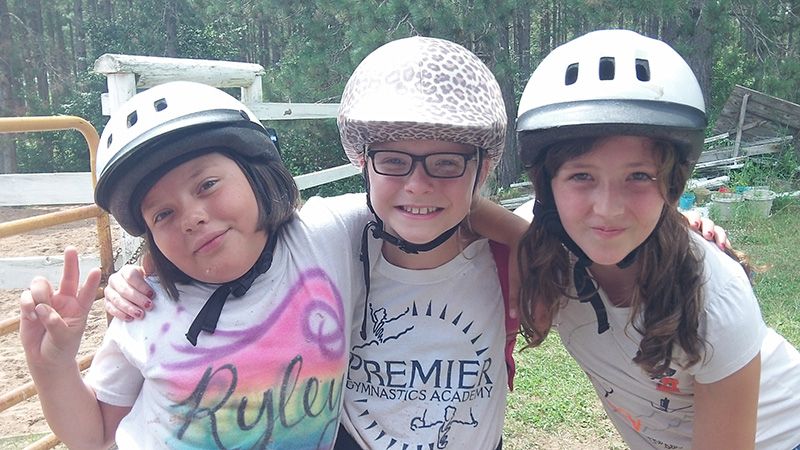 Check it Out
How do the counselors handle transitions? Moving from one activity to another can be hard for children. Children can dawdle, how well do the counselors keep the group together?

Do the counselors respect campers? Campers should never be the butt of a joke. Counselors should be nurturing, thoughtful, and fair, with an age-appropriate sense of humor.

Do the counselors raise their voices frequently? If counselors have to raise their voices a lot, it may be a sign that they don't have control.

How do the counselors handle aggression and discipline among the children? A good counselor should keep an eye on situations that could be dangerous, and should avoid situations that would likely cause trouble.

Do counselors give frequent, positive reinforcement?
Gender Equality
When you observe a day camp, make sure that both boys and girls are given both equal access and encouragement to try all the activities. Make sure that girls are encouraged to try and excel in team sports and that boys are encouraged to try and excel at craft areas like jewelry making or trying dance.
The Children
When you visit a camp, keep in mind that the children are the best indicators of whether a program is working. Pay attention and note:
Do the children seem happy? Are they busy and engaged in their activities?
Is there an underlying sense of excitement?
If the group is noisy, are they still under control? Do the children interact well with each other?
Are there any children who seem isolated? What do the counselors do to integrate them?
How diverse are the campers?
Will your camper already know some of these children?
Does it appear that the children are supporting each other?
Medical Care
Even under strong safety standards and supervision, children can still get sick and hurt at camp. Make sure to ask about the medical facilities and staff. You should ask:
Is there a full-time nurse on staff or do they use an health aid?
Are medical exams and immunizations required?
Does the nurse check campers for head lice?
Is the nurse qualified to dispense medication?
What is the camp policy in medical emergencies? Is there a designated hospital? How are children transported to medical facilities?
Are counselors trained to handle minor issues such as bumps, bruises, scrapes, and cuts?
What are the camp rules for keeping a sick child home?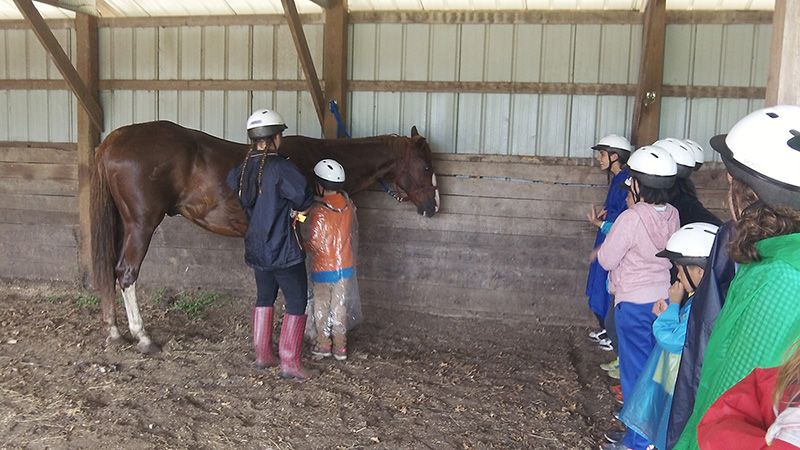 Activities

Space and cost often affect the number and variety of activities that are offered at any camp. Ask to see a sample schedule of a typical camp day. Some camps offer a dazzling array of activities. Yet, don't be dazzled. Day camps should offer a nice array of general activities. You want to know:
Are all activities open to all age groups? If not why?

How often can a child take a certain activity?

Does the camp insist that all campers try all activities?

Are there different levels of skill in sports? How are teams chosen?

Are there any inter-camp (with other camps) competitions?

Are the activities sufficiently challenging as the camper gets older? Is there room to grow, or with the older camper get bored after attending for several years?
Facilities

It is important that when you go to the camp you look at their facilities, both the indoors and outdoors. Be sure to note the overall appearance and how the facilities are maintained.
There are many things to look for.
Outdoor Facilities
Every day camp should have many opportunities for campers to exercise their large motor muscles. For preschoolers, a day camp should have an playground. You should look for:
Playgrounds should have enough room for all to play. Some text recommend a minimum of 75 square feet per child.

The surface under the equipment should be impact absorbing. Filled materials such as sand, wood chips, or pea gravel that are 9-12 inches deep, or synthetic foam tiles or rubber mats made for playground use are safe.

For preschoolers, equipment should be no more than five feet high and surrounded by a six to eight foot perimeter to allow children to descend safely.

Equipment should be well maintained. Check for splinters or loose screws.

Sandboxes should be covered after use to avoid animal droppings.

Playing fields should be level and free of rocks.
The Waterfront or Pool Area

Water safety is one of the most important camp concerns. You should look for:
An experienced waterfront staff committed to safety with Red Cross lifesaving certification.

Children should be tested for swimming skill at the beginning of camp. If there are swimming lessons, Red Cross swimming goals should be set for each camper.

Non-swimmers should be clearly identified to lifeguards and all swimmers should only be allowed in to the water depth appropriate for their skill level.

he pool or waterfront swimming area should be large enough for the children to swim easily without bumping into each other.

If there is only one pool, it should have varying segregated depths to accommodate all levels of swimmers.

At a waterfront, there should be separate and clearly marked areas for swimming, boating, water skiing, and diving.

There should be a water buddy policy (or something similar)for swimming sessions and children should be taught water safety.

There should be counselors supervising free swims both in and out of the water in addition to lifeguards.

Life jackets should always be worn for boating, sailing and water skiing.
Food
Some camps will provide lunch and snacks, while at others, campers bring their own. You need to decide which is best for you. Ask about a typical menu and whether a staple like peanut butter is always available as a substitute. Ask when snacks are offered and what they typically consist of. When and where do they eat? How is it staffed? If campers bring their own lunches, is refrigeration provided to avoid spoilage? If your child has food allergies, its important see how the camp may deal with this.
Indoor Activity
There should be a large indoor space for children to play in case of inclement weather. Ask the director about plans for rainy days. Make sure that in the case that it rains for a week straight, children are not spending all their time watching videos.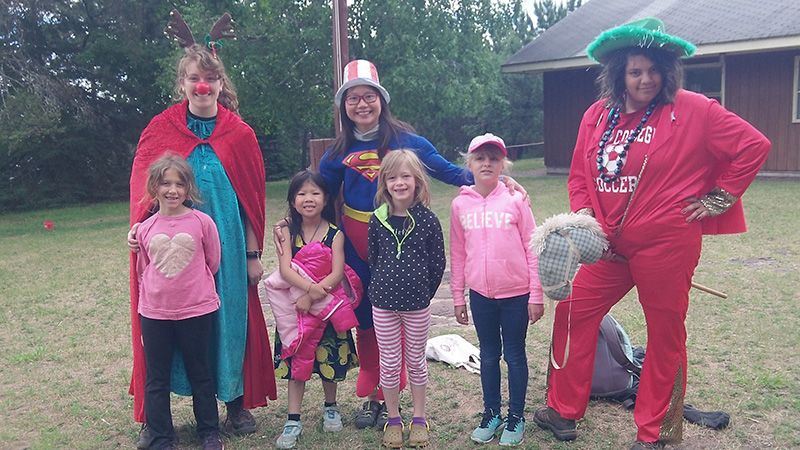 Arts and Crafts
A camp's Arts and Crafts program gives a clear insight into the camp's philosophy. Is the camp interested in product or process? It's ok for children to use the same materials, but each child should be able to choose which and how much of the materials to use. Ask about the range of typical craft projects, and whether there is adequate equipment and supplies so that more than one child can participate at a time. Are goals set and is the activity led by someone with credentials? Ask if your camp has additional cost for special projects.
Safety
Safety protocols need to be in place. You should ask about:
Arrival and Dismissal
What are the arrival and dismissal plans? Make sure that children are supervised when they are dropped off and picked up, and that they are protected from the heightened traffic levels at this time.
Bus Travel
You want to know that your child will be safe on the camp bus. If the camp you choose provides transportation, you should inquire about:
What kind of vehicles are used?
Who drives the bus/van? How are they certified?
How are the vehicles marked so that children can distinguish them from others?
What kind of safety procedures make sure that the camper is safe once he or she disembarks the bus?
Is there a counselor on board as well as the driver?
How long is the bus trip, including all of the pickups?
Are there seat belts for each child and does a counselor monitor that they are worn?
How long will the bus driver wait in the morning before leaving?
Do they pick up in a central location or at your front door?
Urban Camps
If the camp is in an urban area, different safety strategies should be in place. Make sure the camp's plan is safe and appropriate for its' location. While the camp should have an open-door policy for parents allowing you to visit, the camp should have a procedure for screening visitors and keeping out strangers. Things to ask about include:
Do all visitors have to check in at the main office? Does each visitor wear an identifying badge?
Is there a procedure to admit and screen visitors?
Are there working fire alarms, fire extinguishers, and emergency lights in each building?
Does the camp hold fire drills with the children?
Can all buildings be easily evacuated?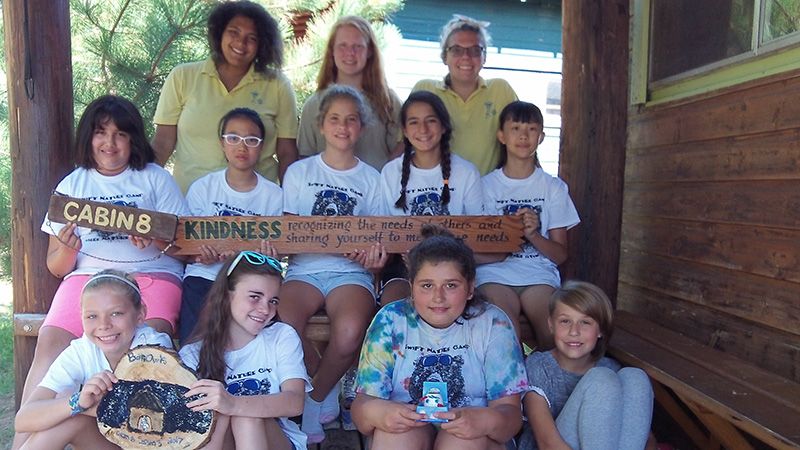 American Camp Association:
Regardless of who runs the day camp program you should make sure they are A.C.A. Accredited. The ACA is an independent association that is responsible for the accrediting of summer camp programs. Of the 1000's of camps in existence less than 25% meet the rigid standards • ACA accreditation verifies that a camp has complied with up to 300 standards for health, safety, and program quality, which are recognized by courts of law and government regulators. • ACA-accreditation standards cover all aspects of camp operation from site/food service and health care to management and staffing. • The American Camp Association collaborates with experts from The American Academy of Pediatrics, the American Red Cross, and other youth service agencies to assure that current practices at ACA-accredited camps reflect the most up-to-date, research-based standards in camp operation. • Accreditation is a parent's best evidence of a camp's commitment to health and safety. • ACA accreditation assures parents that the camp has had a regular, independent safety audit that goes beyond regulations in most states. • Parents can (and should) verify the accreditation status of any camp at any time. This may be accomplished through ACA's Web site at www.ACAcamps.org (Click on Find A Camp!) or by calling 800-428-CAMP.
Camp Expenses

When choosing a camp, you must consider if you can afford it. Scholarships are limited, but camps sponsored by nonprofit organizations may offer some form of assistance. Ask for a breakdown of fees, and whether transportation, lunch, and uniforms are included. Inquire about discounts for enrolling your child for the entire summer or if siblings are also enrolled. Some families have also been able to ' trade service's in exchange for a reduced or eliminated camp fee for their children. Parents may be able to work as nurses or office staff in exchange for their children camp tuition. Keep in mind that more expensive does not necessarily seem better, but if a camp is considerably cheaper than others, you want to know where they are cutting costs.
It's Time to Call

Once you've selected a program, check references. Ask the camp director for the names and phone numbers of several families that have children in the program. When you call, ask them about their opinion of the camp program and personnel, any problems they or their child encountered, and how the director handled any issues that arose during the season. If your camp provides transportation, ask for an evaluation of the vehicles and drivers as well. Remember, you want the camp director to be on your team with your child's development.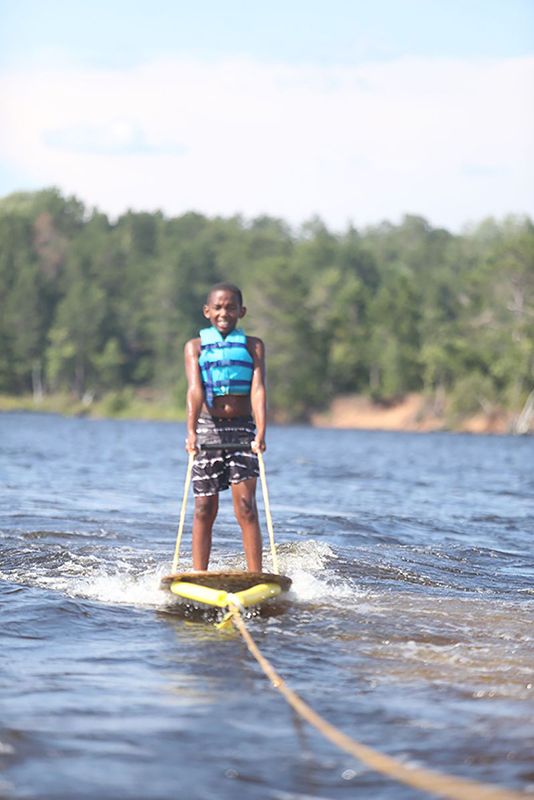 The Opening Days
If your child didn't go with you on your initial visit, be sure to visit before camp starts to give your child a feel for the camp to make opening day a little bit easier. On opening day, wait for the bus with your child, and make sure that he or she is settled. Though there may be tears for the younger camper, assure him or her that you will be waiting for him or her to return. If you are dropping your child off at camp on opening day, make sure to accompany him or her directly to a counselor or other staff member. Introduce yourself and your child to the counselor before departing.
There's a Problem
Don't hesitate to call the director if there is a problem at camp or at home. The more information a camp has, the easier it will be for them to help your child. If there is a situation at home, let the camp know so that they can help your child to adjust at camp. If there is a problem at camp, you should notify the counselors and the director. If your child's problem is with a counselor or specialist, contact the director. Ask the director to investigate and then report back to you.
Back Home
Once camp has started, you'll want to hear all about the day's activities from your child when he or she returns home. Make it clear to your child that you are genuinely interested in what they did, and you want to hear about the good and the bad parts. However, keep in mind that your child may seem reluctant to talk. Consider these factors:
Out of sight, out of mind: Kids often just don't keep the memory of the day's events clear and in focus.

Here and now: Children tend to focus on more immediate concerns rather than the past.

Language skills: While some children are very articulate, others may still have difficulty organizing and expressing their thoughts.

Too much to tell: Sometimes, the day is so full that it's hard for a child to single out one thing and talk about it, or they may be so overwhelmed by how much they want to tell you that words tumble out incoherently.

Processing what's happening: Sometimes young children need time to understand what an experience means before they can talk about it.
To make your conversations about camp smoother, follow these tips:
Understand the basics: If you understand the normal camp schedule, you can ask specific questions to help your child focus.

Set the stage: Have a block of uninterrupted time to talk about what is happening in your child's life.

Work together: Doing a chore with your child may spark conversation.

Riding in the car: Being alone in the car together is another good time for quality conversation.

Be specific: Ask precise questions to help your child focus.

Get to know the other kids: If you can put faces to names, you'll know who your child is referring to in conversation.

Wait for an answer: Don't be uncomfortable with silence. Give your child a few moments to organize his or her thoughts.

Model it: Talk to your child about your day
Put your child and the situation into perspective, some children tend to be quieter, while others are chattier. What is really important is that your child feels that she can talk to you when she needs to.